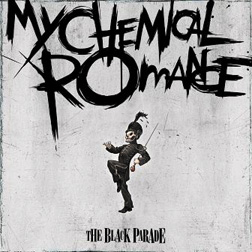 MY CHEMICAL ROMANCE "The Black Parade" CD-Sony/Bmg
Estamos frente al tercer álbum de My Chemical Romance, su lider ha comentado sobre este trabajo que: "...Este fue un álbum muy difícil de hacer para nosotros", "Y hubo cierto momento en que..., ... necesitábamos convertirnos en una nueva banda","Me gustaría pensar que cuando te mueres, la muerte viene por ti de la manera que tú quieras", "Es el recuerdo más fuerte de tu infancia o madurez. Para el personaje principal en este disco, The Patient (El paciente), su recuerdo mas fuerte es su padre llevándolo a un desfile cuando era niño. Entonces cuando la muerte viene por él y está muriendo trágicamente en un hospital, la muerte viene en la forma de un desfile negro (Black Parade)".
Así pues estamos frente a un álbum donde lo épico y lo teatral acerca de la mortalidad, se adentra en sonidos que van desde los míticos Queen a la propia banda.
Black Parade es siniestro en sus textos pero sin embargo suena positivo y muy pegadizo; ha sido grabado junto al productor Rob Cavallo que ha recreado un disco incendiario y a la vez volátil con el que la banda My Chemical Romance serán recordados. El primer single "Welcome to the black parade" es un épico Punk-rock y encima pegadizo. Aires orquestales, concepto, producción... un buen trabajo al que habrá que dejar respirar como a los buenos tintos.