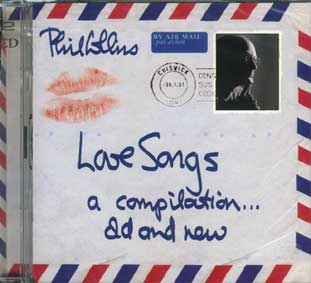 PHIL COLLINS "Love Songs: a compilation…, old and new" 2 CD-WEA.
Un álbum doble que abarca más de dos décadas, y reúne 25 canciones con las baladas más conocidas de Collins, junto a sus temas favoritos de otros artistas, rarezas, e interpretaciones en directo totalmente inéditas."One More Night", "Against All Odds," "Groovy Kind Of Love," "Two Hearts," "Do You Remember?," "Can't Stop Loving You," y "Separate Lives" (en directo). El álbum contiene también el tema "You'll Be In My Heart" (de la película de Walt Disney, Tarzán), y que supuso para Phil un triple galardón: el Oscar, el Globo de Oro y el Grammy. Versiones como "Somewhere" de la película West Side Story, una interpretación de "I've Been Trying"de Curtis Mayfield, o en directo como los temas de los Temptations' "My Girl", o "Always" de Irving Berlin, el clásico de Jerome Kern y Dorothy Fields "The Way You Look Tonight" y una grabación en concierto de "True Colours". Así como la canción inédita "Tearing And Breaking" co-escrita junto al cantante y compositor escocés John Martyn, y grabada originalmente en 2001; pero hay más…, como son las geniales canciones "This Must Be Love" y "If Leaving Me Is Easy", ambos incluidos en el primer álbum de Phil en solitario, el inmenso "FACE VALUE," publicado en 1981, para mí el mejor disco hecho nunca por Phil Collins.